Behavioral Therapist (West Springfield)- Hybrid, Full Time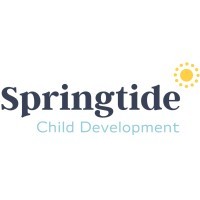 Springtide Child Development
West Springfield, MA, USA
Posted on Monday, April 10, 2023
About Springtide Child Development:
Springtide is a VC-backed rapidly-growing company that offers family-centered care for children with autism and other developmental delays. We offer ABA, speech, occupational therapy, and social skills classes all under one roof. Our experienced, interdisciplinary team develops personalized care plans using evidence-based treatments, all while using digital tools to transform the way behavioral care is delivered. Springtide clinics are open M-F 8a-6p (and some clinics Saturdays 9a-3p).
One in 44 children are diagnosed with autism in the US today, and there is a severe gap in both the quality and quantity of available treatment options. Springtide is building a multi-center practice of best-in-class interdisciplinary clinics, to help our children reach their greatest potential and elevate the standard of care.
Join the team that's reimagining how autism care is delivered:

At Springtide, we provide a family-centered care model to help children with autism and their families thrive and are building a best-in-class interdisciplinary team to help fulfill that vision. We have a full-time opportunity for a Behavioral Therapist (BT) at our West Springfield, MA clinic.
Here's how we do it:
Family-centered experience: At Springtide, our number one priority is our children and their
families, no matter their background and circumstance. We are a one-stop shop for all therapies, and coordinate care across schools, pediatricians and other caregivers.
Improved access to care: We accept kids from all insurances, including Medicaid. We provide
a seamless onboarding experience, minimizing paperwork and eliminating confusion. We offer no-wait access through exceptional technology and operations.
Scale highest clinical quality: Following the latest evidence-based guidelines, we build
operations and technology to support our practice so that we are offering the highest level of
quality to our clients.
Culture focused atmosphere: Through continued education and performance development
opportunities, Springtide fosters an environment that encourages inter-professional collaboration and enables our staff to thrive and ascend.
About the Role:
Behavioral Therapists (BTs) work directly with children with developmental disabilities, as they deliver one-on-one Applied Behavior Analysis (ABA) therapy. This rewarding job allows BTs to experience the joys of using evidence-based and compassion guided standards to help children develop life altering skills. BTs report to a BCBA and receive consistent feedback and support.
RBTs will potentially work with clients in both the center and home setting, based on each client's specific clinical needs. Generally, the BT role follows two shifts:
M-F 8am- 6pm

M-F 11am- 7pm, Saturday Coverage as needed
Your day-to-day will consist of the following:
Independently implement one-on-one treatment care and education to children with Autism Spectrum Disorder and other developmental delays

Independently implement prescribed skill acquisition and behavior reduction treatment protocols by collaborating with an Interdisciplinary Care Team of BCBAs, Speech-Language Pathologists, and Occupational Therapists

Collect, record, and summarize session data to help the Care Team observe progress for your clients

Partner with parents and caregivers on methods to further their child's goals in between sessions

Maintain client safety and dignity throughout the session by using industry leading crisis prevention and handling procedures coupled with assent-based treatment protocols
In this role, you will develop skills that set you up for future success -- whether directly working with children, in team-based office environments, or in science and technology!
Requirements:
0-1 years of experience working with children in some capacity

You are able to remember learning concepts in Springtide's Level I Clinical Competency areas, Rapport Building, Organizational Citizenship, Documentation, Competency
Areas, Safeguarding Competency areas, and Training Competency areas
Possess and maintain a valid driver's license in state of residence, maintain vehicle insurance, and pass a motor vehicle check

Your values align with Springtide's Values

You have obtained a high school degree

You have a strong level of empathy and observation

You enjoy using creativity to problem solve

You are a fast learner and adapt to evolving work environments

You have strong written and verbal communication skills

You are a team player who thrives as a member of a motivated group

[PART-TIME] You are able to work the after school program and/or weekend hours: (e.g.
Mondays-Fridays: 3:15-6pm; Saturdays 9am-3pm)
[FULL-TIME] As a full-time BT, you must have a flexible schedule to work the various clinic shifts (e.g. the weekday day program (M-F 8:30a-3p), the weekday after school program (M-F 3:15-6p) and/or Saturdays (9a-3p))
Nice to Have, but Not Required:
You are pursuing or have obtained a Bachelor's degree

You have direct experience working with children with developmental disabilities and/or delays

You have completed the RBT Competency Assessment
Why become a BT at Springtide?
Competitive compensation ($17-$28 per hour) and comprehensive benefit structure (e.g.,
medical, dental, vision and life insurance, and paid-time-off)
Extensive training and coaching from BCBA supervisors and Springtide team members

Excellent mission-driven, collegial, and fun team culture!

Wonderful exposure to and opportunity to collaborate with other specialities

Many opportunities for learning and career advancement in fast-growing company